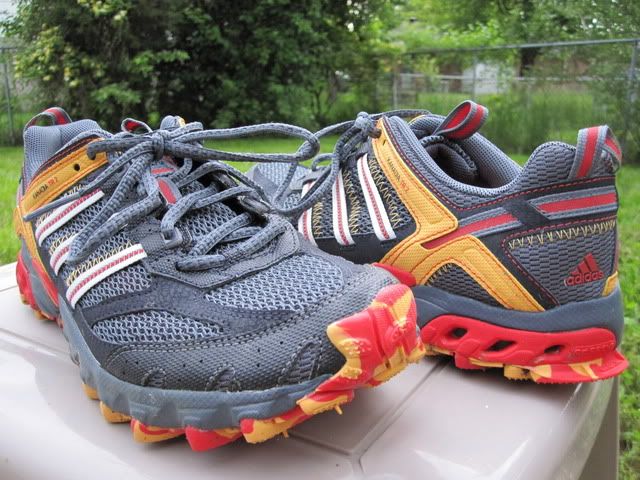 I was a little apprehensive to purchase this shoe--my first try with Adidas trail runners was the Supernova Riot and I wasn't really that impressed. They did their job but I never felt ONE with them. I decided to give these a try, though and I'm very glad I did.
The first thing I noticed about these was how light they felt in my hand. They're just a few ounces lighter than my previous pair of Adidas trail runners but it's a noticeable change on my feet--and very welcomed. The mesh upper comfortably hugs your foot and the non-slip lining is great when you're bounding around a rocky trail or moderately hilly trail (doesn't work so well on extremely steep portions, but I don't think any shoe is foolproof in that area).
I've had these shoes out on gravel, grass, mud, and mulch and I felt pretty confident in all of those. The only concern I've had was on muddy, wet terrain where the shoe had a hard time getting any traction on the uneven edge of a cliff. Scary time, but honestly, I attribute that to runner error, and not to a problem with the shoe's soundness.
[b]Two things impress me the most with these shoes[/b]--their superb ability to react to the ever-changing terrain on the trails I frequent (coupled with my occasional aggressive bounding and leaping) and their ability to shed mud from the outsole. That's always a major problem I have--mud and dirt will compact into your tread and you're left without any traction. This shoe does not have that problem. Sure, mud still finds it's way to your tread but not at all at a bothersome level.
I highly recommend this shoe if you're looking for a new trail shoe. No slipping, no hot spots, nothing. Just a solid trail running shoe that is unbelievably comfortable on my foot.
I'll let you know how durable they are after a solid period of trail running.