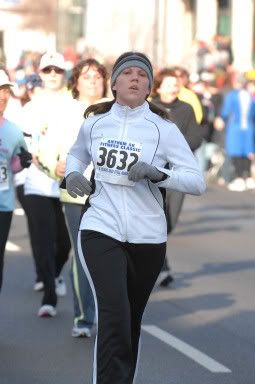 This was my first race and it was great! I ran with my boyfriend (his first race as well) and while he did slow me down a little bit, we had a BLAST! We got there early and found a beautiful parking space, which I couldn't believe! We pinned our numbers on in the car before getting out--we were at the Waterfront, which is along the Ohio River here and it was COOOOLD and windy! BRRR!! People started pouring in by the carloads about 10 minutes after we parked. When we got out, an older gentleman, who looked more fit than both of us, asked how we put our chips on our shoes. I wanted to laugh at the irony, because apparently he thought we KNEW something but we knew NOTHING! I felt like maybe I didn't look so noobish at that point!
We walked down to the river as a warmup and stretched. The sun was coming up in the blue sky and it was gorgeous! Birds flying, waves slapping into each other...I felt like I could do this every day and be in heaven! We jogged around a bit and headed over to the start line festivities. Over 8000 registered, record numbers and it was crowded! The Port-o-Potty lines were so long and just seeing those people wait made me have to pee...which really worried me!!! (I always have to pee anyway!)
After we warmed the field, which was cool all by itself, it was time to line up. There were no pace signs or anything for us to tell WHERE to line up. But we stood there with people and talked and listened to stories so we decided we were far enough back to be safe and not interfere with the faster folks. The start was SO exciting and fun, and everyone was sooo nice!
I started off slow, just trying to find my pace for the first mile, felt pretty good even though lots of people were starting to pass! Once mile 1 hit, my heart sank. I about cried. Then I remembered that we didn't cross for about 2-3 minutes after the start. So I picked up the pace mile 2 and told the bf I wanted us to make sure to hit mile 2 at no later than 26:00, which would have been just under a 12:00 pace, which is good for him. He was hurting a bit (he gets shin splints bad) but I kept pushing him! When we passed the water stop, it gave me chills to see all those volunteers and little kids holding water out for us. I passed on the water, as I didn't need it but that feeling from the cheering and selflessness did so much for me! I wanted to press on even faster but the bf started walking so I had to stay slow. When we hit mile 2, I was so happy to see that it was at 26:00!!!
Running the 3rd mile was by far the hardest! I just kept pushing and passing people up here and there. Nearing mile 3, the crowds had definitely picked up and I just went for the finish line! It felt soooo good! I didn't finish at the time I had hoped to but I did run with a good partner and I had so much fun! I had a 37:45 chip time and now I have something that I can easily beat for my next 5k!!
Highlights of the race for me: the 2 mile clock reading, the Panera Bread cinnamon crunch bagel and actually running the entire time, even though I was slow!