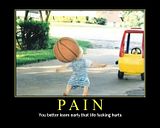 Yes, I'm running my first Half Marathon in April.
Yes, I'm darn nervous.
Hell, I've done the distance--well, close enough. 13 miles is my distance PR--but I've been running double digit runs since December--so the distance is not something I'm worried about.
What I AM worried about is my pace during this race. I KNOW that I will not treat this like my training runs. I KNOW that I will not be comfortable during this race. I actually think that I'm going to hate every bit of it.
I don't even want to see any race pictures from that day--I can tell you right now what they will look like. But I won't tell you, it's far too embarassing for me.
I know that the morning of the race will be Hell. I will be prepared, I will be there extra early. But I will not have slept (can someone drug me the night before so I WILL sleep?) the night before. I will be too nervous to focus. I will probably feel like I'm going to revisit my dinner from the night before. I won't feel like running.
I know that the race will feel bad, and I'll be too hard on myself about my pace. FINISH, FINISH, FINISH--that's all a first Halfer is supposed to worry about, right? WRONG. It's NOT all I will worry about. I will worry about finishing respectably, relative to ME.
I will probably cry at the finish. I might collapse. Who knows.
So that's why I'm nervous.
But you know what's funny? I'm MORE nervous about the Papa John's 10 Miler, which is coming up in 2 weeks. I've never raced anything beyond the 10K distance so this will be a learning experience for me. It will act as a test for my performance at the Mini, which will be two weeks after the 10 Miler. I'm so nervous that I'm going to SUCK at the 10 mile distance and I will not be able to have the confidence I need for the Half.
And well, the HM is really just a 10 mile race with a sucky ass 5K at the end. And you all know I don't really care for the 5K distance. It just hurts. (
5Ks are Harder
).
And I STILL don't know what shoes and what gear I'm going to wear. I'm crumbling!