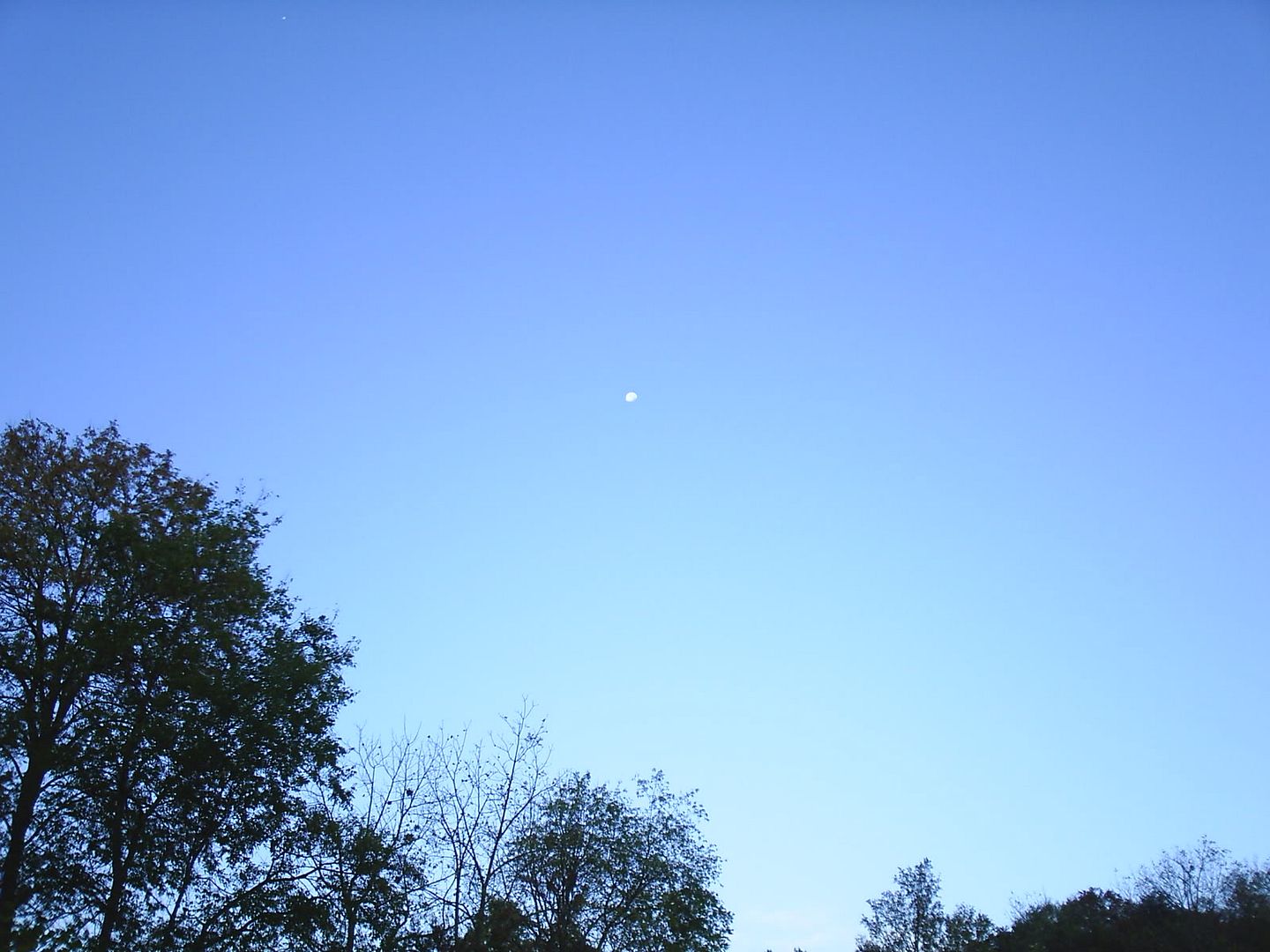 This is one of the first views I saw during my warmup this morning (and boy did I need the warmup! It was chilly willy out there, man!) Anyway, if you can't make out that little white dot, it's the moon! During my ride to Bernheim Forest, the sun was rising and it seemed to be really cloudy. But once I got there and started my warm up, it cleared up and looked so beautiful. In fact, this day has been gorgeous. This is why I love Fall!
I headed around the main arboretum road (a generally smooth concrete road with a wide pedestrian/bike lane off to the side), which is a loop around the park and services the main parts of the arboretum--including an education center, several shorter trails, a conference center (also used for weddings), BEAUTIFUL scenery and the award winning visitors center. Made from recycled wood and complete with a a green roof, the visitors center is nice to look at AND pleasing to the environment. It also uses geothermal heating and cooling, reuses water from roof runoff and rainfall and my favorite, the fact that it was constructed in a manner that will allow it to be "unbuilt" so that the parts can be used for something else in the future. Here's a picture I took some time ago, so you can see the general idea--though I think it is MUCH more beautiful than the picture tells:
If you care to see more pictures, you can view the gallery on their website:
Visitor's Center Photo Gallery
Inside, there used to be an EXCELLENT casual cafe with coffee, tea, a great house salad, and a fantastic assortment of sandwiches and wraps. It was the kind of place you could go and warm up or cool down and just sit and chat for hours. They even had live music on the weekends! But I assume it was too expensive to keep up nearly year round and they've toned down to a mostly self-service, grab and eat type place. It just occurred to me how wonderful it would be to sell them some of my baked goods--or better yet
WARNING: BIG DREAM ABOUT TO INSERT ITSELF IN 3...2...1...
I could revamp the whole place, call it my own and do what they did only ten times better, and maybe with the help of one of my culinary-inclined friends! Coffees, hot chocolates of all varieties, pies, cakes, cookies, sandwiches, vegetarian friendly...the whole nine!
Okay, I apoologize, that wasn't running-related at all. Unless you want me to say that I will focus my new cafe on small pre-run meals and healthy recovery meals. Yes, that's it. Now, it's all running-related!
Back to my long run--I decided to hit a short but GREAT trail early in the run. It's named the "Sun and Shade Loop" and runs you right beside Lake Nevin without you even knowing until you get there! :) It was beautiful, easy to navigate and such a treat for my feet, eyes and mind.
The beginning was a dirt/gravel path that was pretty open...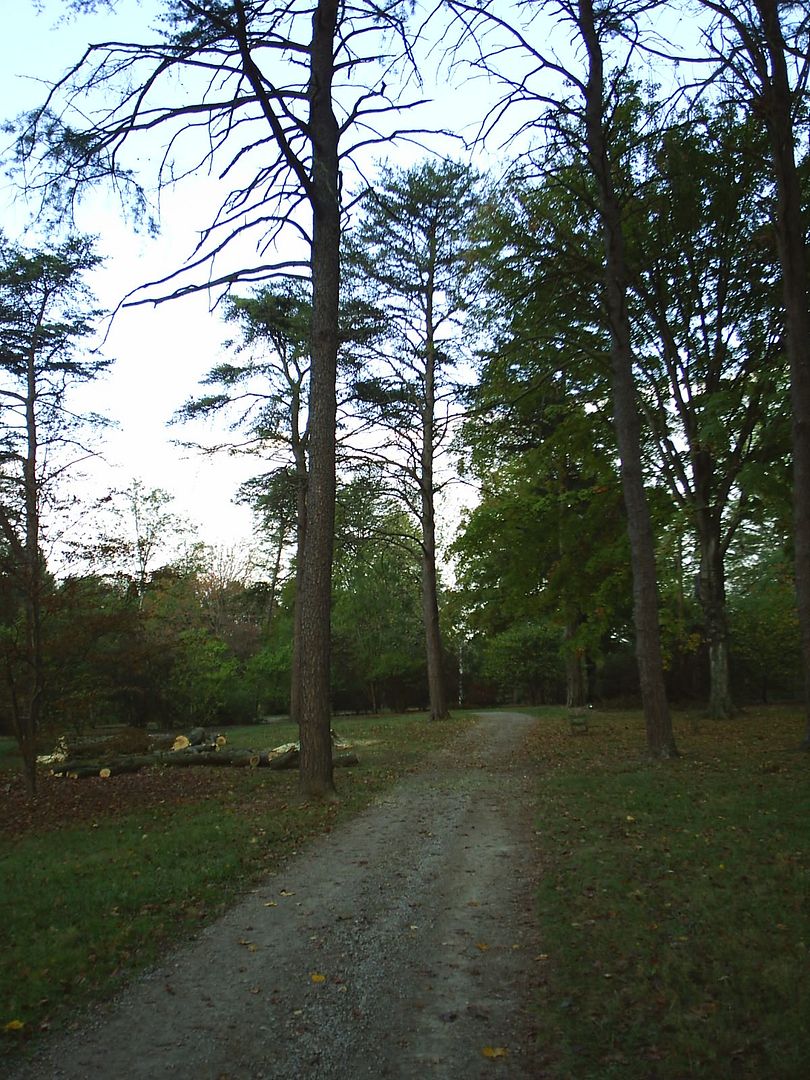 At the back part of the loop, this is the view of the lake...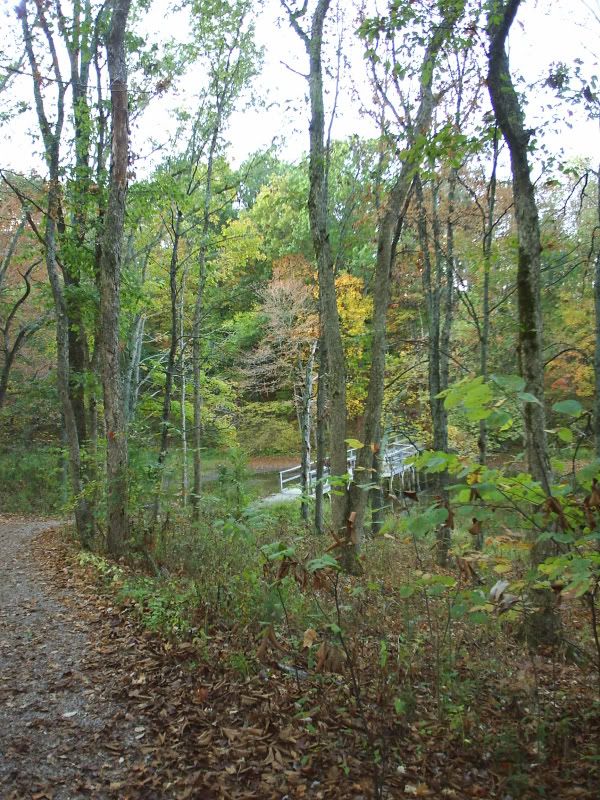 I headed back out to the main park road and headed off one of the side roads that leads to more heavily wooded areas and more hiking and bike trails. This run was amazing--think one way concrete roads with yellow and orange leaves sprinkled throughout and more beautiful scenery. This is about the time that I decided to name my Mizuno Wave Nirvana 4's their new name--the Acorn Eaters. DBF prefers "Squirrels." These shoes are notorious for scarfing up acorns during my runs. It's actually funny, if not annoying.
If you can tell, they have a pretty sizable gap in the heel that seems to really invite huge acorns--though I've only noticed in my left shoe...apparently the right one isn't "nuts." Har har.
I ran around Ten Toms Loop, which is a moderately hilly path that is bike, car and pedestrian friendly. Then I headed further down to Guerilla Hollow, where a short but incredibly hilly 1.2 mile trail exists. My mom, DBF and I tried to do this trail many months ago but it was deer season and they had it closed. This was my second favorite portion of my run today--it was very serene and fortunately well-marked because with that many trees, twists, turns, hills and a sea of fall color on the ground, there is no way I could have found my way out!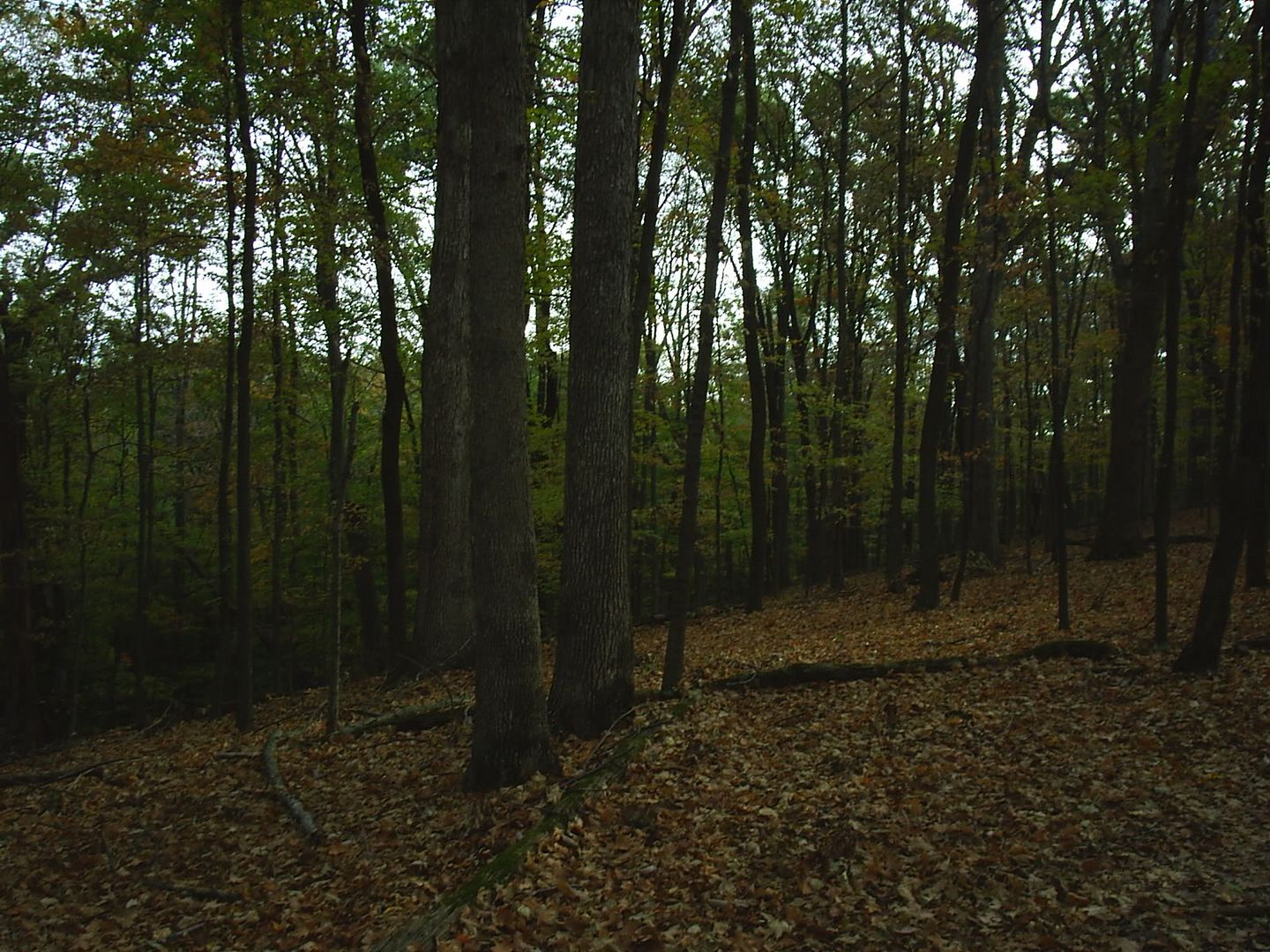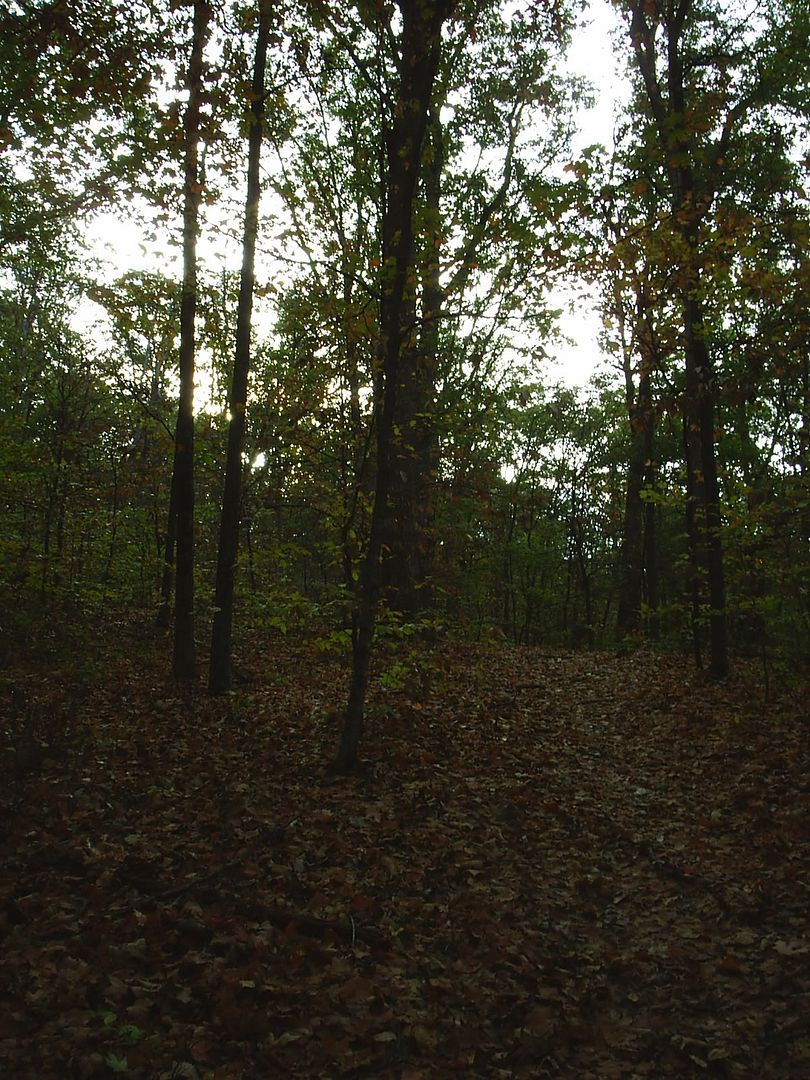 By the time I finished my run, it was nearing 10AM and apparently the scarecrow at the entrance and all of the "event parking here" signs were for a purpose!! They had a park-wide event called "Color Fest" that started at 10AM. It was a family friendly event with artists and craftmakers, educational booths, food, music and other fun--like Zap! Electric cars on display! Very fun, and it was so crowded--I hadn't noticed during most of my run because I wasn't in the central portion of the park, which is where all of the festivities were taking place. I called DBF to let him know I was heading home and to get his "order" because I wanted to stop and pick up some breakfast, but he decided it would be more fun to ride his
motor-cyyyyy-cle
out to the arborteum and have "breakfast" with me. I say "breakfast" because we actually ate grilled hamburgers, chips/pretzels and Sprite! We shopped a little, walked around and then drove up to the Fire Tower, which remains closed, much to my dismay.
Concerning the run itself--it was the most beautiful, peaceful and effortless 7 miles I've ever done. I could have done more. My legs felt strong, and thanks in part to the cooler weather, I felt good all around. It was an amazing run and I don't think I'll ever be able to duplicate this experience, but you can bet your ass I'll try!
Oh and one final thought consisting of two very important words, frightening to the faint of heart and comforting to the legs of runners everywhere...
ICE BATH
I've got this thing down great. This doesn't mean that I enjoy it, though once I'm in, I feel this weird happy lunacy.
1. Fill your tub up with cool-cold water, about 6 inches or enough to cover your legs. I've got monster thighs so I have to go up a little higher! LOL
2. Go make a hot beverage--I prefer coffee.
3. Get 3-4 trays of ice and dump in a container big enough to hold that much ice.
4. Grab your training log to write down today's info and/or a RunnersWorld magazine (to keep you distracted)
5. Take off your running clothes, except for your underwear (assuming you wear some) and put on a hooded sweatshirt.
*This part I'm not so good at*
6. Get in. Slowly or quickly. Just get in.
7. Have DBF/DH/DGF/DW or anyone that you think might want to secretly have revenge on you dump in the container of ice. But make sure they know to be careful and not hit your legs with the tumbling ice.
*DBF enjoyed doing this the first time. I think he got a kick out of it. Today though, he was feeling a little less like torturing me and I think he felt bad about doing it. I had to explain to him that it's GOOD for me even though it doesn't feel good at first. He even turned the heat on for me--that's love!
8. Sit there uncomfortably for the first 60-120 seconds. Be miserable. Really. Shiver a little. Keep the coffee close and the hood on. Don't even think about reading, you won't be able to concentrate.
9. After the initial discomfort passes, you'll forget you're cold. You'll have 5-10 minutes of good reading time.
Ironically, I picked up an older copy of RW for today's ice bath and there was a story on *drumroll* ice baths. They discussed how they worked, which was pretty cool to know. Let me copy and paste the pertinent info that I found on RW site just now:
Cryotherapy ("cold therapy") constricts blood vessels and decreases metabolic activity, which reduces swelling and tissue breakdown. Once the skin is no longer in contact with the cold source, the underlying tissues warm up, causing a return of faster blood flow, which helps return the byproducts of cellular breakdown to the lymph system for efficient recycling by the body. "Ice baths don't only suppress inflammation, but help to flush harmful metabolic debris out of your muscles," says David Terry, M.D., an ultrarunner who has finished both the Western States 100-Mile Endurance Run and the Wasatch Front 100-Mile Endurance Run 10 consecutive times.

Anyhow, I'm feeling pretty good after my long run. I thought I might feel pretty sore and tired today after doing so much running and incorporating the far more challenging trail running into the workout, but I feel pretty good and I think that's because of the ice bath and my recovery foods!
I LOVE RUNNING! I am so grateful for today!